Those Ingredients We Love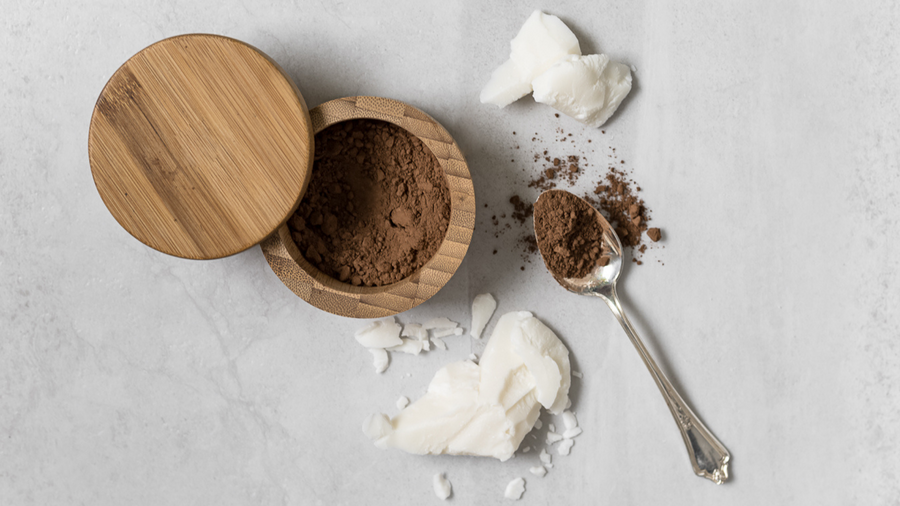 Here at GROOM, your well-being is the soul of our mission.
To care for your skin, hair, or beard, we carefully select natural oils, different kinds of butter known for their hydrating and nourishing properties, and an assortment of purifying clays.

Take a look at six ingredients we love that makes you feel better daily.

JOJOBA

Jojoba (Simmondsia chinensis) is a small tree that originates from desertic regions of Mexico and the American South. It is cultivated for the oil, which can be uncovered in the seeds about the size of an olive.
Because of its concentration in gadoleic acid, jojoba oil resembles human sebum. Gadoleic acid is a fatty acid from the Omega-9 family (like cod liver oil).
This composition makes it the perfect oil to moisturize the skin without oily residues.
Dry to the touch, it is quick-absorbing. 

It is also known for its Sebo-regulating properties: it controls sebum production, making it an excellent moisturizer for normal to oily skins.
Finally, jojoba oil stimulates collagen production by preserving natural hydration levels of the skin, and this is why we added some to our Purifying Face Wash and Moisturizing Shower Gel!

We love it so much that it is featured in no less than 11 of our products, including our classics such as our Beard Oil and Aftershave Balm.


OLIVE OIL

Olive Oil is the MVP.
Also known as Olea europaea, it is rich in vitamin E and antioxidants. For thousands of years, it has been widely used in the kitchen (obviously) and the cosmetic world. The oldest soap in the world, Aleppo soap, was made (and is still being made today) with olive oil as a base.

It is widely used in the soap-making industry, and it gives structure and firmness to the soap without drying the skin out.

Olive oil brings sensitive and dry skin back to life with its moisturizing, soothing, and regenerating properties. No surprise that it's one of the key ingredients in our Rhassoul Soap (as well as one of our forthcoming soap projects, but shhh…)

ARGAN OIL

Argania spinosa… pretty, isn't it?
Argan tree fruits that resemble apricots are mainly cultivated in Morocco. Argan oil is a robust economic sector in this region and is predominantly operated by women working in cooperatives. The nut in the argan tree fruit is pressed to extract the oil we utilize.

Argan oil is a staple for hair care and beard care because of its heightened vitamins A and E levels, crucial fatty acids, and antioxidants. An intensely moisturizing and softening ingredient!
This softening sensation is what you will get with GROOM's Beard Oil, Beard Balm and Moustache Wax which will give vitality and strength to stray hairs.

CARNAUBA WAX

Some of our products require a brawnier and thicker texture. It is mostly the case for our Styling Clay, Deodorant Stick and Lip Balm.
To get that perfect texture, we use Carnauba wax, extracted from a Brazilian palm tree (Copernicia prunifera). 
What we adore about this wax is the light and protective layer it leaves on the skin: velvety, water-resistant and non-comedogenic.


MORINGA BUTTER

Moringa, or Moringa oleifera, is a recent ingredient in the Occidental cosmetic world. Native to the Himalayan region of Northern India, Moringa has fast become a skincare favourite.

Created from the oil extracted from the seeds, moringa butter is a powerful moisturizing ingredient with restoring, antioxidant and calming properties. The high levels of vitamins A, B and E delay the skin's aging process. And let's not forget about behenic acid, the fatty acid that adds suppleness.
In our Mattifying Face Moisturizer, we couldn't go without it, and it inspires us to create new soon-to-be-announced products. 
PURIFYING CLAYS

The legend goes that Cleopatra used clay from the Nile to prep her skin, and the first usage of clay as a medicinal or cosmetic ingredient is dated (further) back to Mesopotamia!
Needless to say that the benefits of clay for the skin are well documented.


Bentonite
At GROOM, we use different types of clays, depending on the product's composition and its intended use. For example, you will find Bentonite in our Fortifying Shampoo and Purifying Face Wash.
Bentonite clay (discovered in Fort Benton, Wyoming) absorbs and purifies. Used on hair, it cleanses the scalp and absorbs excess sebum. Used on the skin, it eliminates impurities and tightens pores.

Rhassoul
We also love Rhassoul, a volcanic clay produced from the Atlas Mountains of Morocco. Rhassoul ("which cleanses" in Arabic) absorbs excess sebum on the skin without drying. In our Rhassoul Soap, you will get a perfect balance of clay and shea butter, making it an excellent soap for sensitive skin.

Kaolin
To prevent the glossy look of oily skin, we use Kaolin, an excellent white clay discovered in southeastern China.
Thanks to its absorbing properties, kaolin leaves the skin smooth and mattified while preserving hydration; it's a key ingredient in our Mattifying Face Moisturizer. Normal to oily skin? Say hasta la vista to that greasy sensation that comes with shoddy face creams.
___________________________________________
A plethora of high-quality ingredients are used in our formulas. At the most fundamental level, we use sustainable and ethical resources to fulfill our promise: creating outstanding products made with care and respect.

As always, we stand clear of an ingredient meeting one of the following criteria: obtained from a non-sustainable source, generated from a process involving toxic compounds, presenting a risk of bioaccumulation or eco-toxicity.
As for our "black list" (because, yes, we have one), you can check out which ingredients are banned from our formulae by clicking this link.